Santa Barbara New House - The First 50 Years
1955 - 2005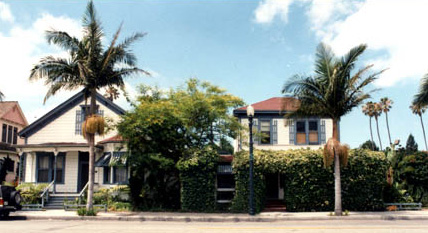 New House was founded in 1955 by Elmo Little and other members of Santa Barbara's Committee on Alcoholism – the first affiliate of the Marty Mann's National Council on Alcoholism.
My personal recovery from alcoholism began when I moved in to New House I on June 24, 1983. I left the house as a resident in April of 1985, and joined the Board of Directors in 1987. In 1995, in celebration of the organization's 40th anniversary, historian Victor Geraci was hired by the board to write a history of New House.
In 2005, I was honored to be asked to update and rewrite the history for the 50th Anniversary.
What is the New House recipe for success as a recovery home?
The following tenets began as traditions, and many have been adopted as formal policies. They are offered from the New House experience to anyone interested in developing successful clean and sober living facilities.
New House is a recovery house for alcoholic men. The primary requirement for admission is a sincere desire to stop drinking.
No one will be denied admission because of lack of money. However, since New House is self supporting, everyone who is able is expected to pay his own way. Room and board rates are historically established to be on a par with the bottom of the rental market.
New House is not a permanent residence. The role of New House is to help alcoholic men become sober, functioning members of society.
Admission is open only to males who are 18 years of age or older and able to take care of their personal needs.
New House does not discriminate on the basis of religion, age, race, or national origin.
New House is a sober environment. Any resident in possession of or under the influence of alcohol or illicit drugs is asked to leave. Previous recovery attempts at New House are never a barrier to readmission.
Residents without jobs who are able to work must seek employment as soon as they are able. All residents must pay their own way and help maintain and operate the house as it were their own home.
There is no fixed term of residence - the individual himself determines when it is time for him to leave New House.
All residents are strongly encouraged to fully participate in 12-Step Recovery programs; men being readmitted following relapse may be required to demonstrate 12-Step sponsorship for readmission.
Staff are non-professional. Managers, Assistant Managers, Cooks, and even the Executive Director positions have always been filled from among the resident population, and all staff (except the Executive Director) is required to be in residence. Staff may provide information about community resources, but they are not counselors. Staff salaries are enhanced by free room and board. To every extent possible, specialty house maintenance such as painting, electrical, plumbing, and refurbishing is also performed by residents in lieu of rent.
New House respects all referral sources and works cooperatively with all community programs, but has no formal opinion concerning the efficacy of other treatment or recovery programs in the community. Board members have included the Chief of Police, Judges, Attorneys, educators, and people active in community recovery, treatment, and prevention programs.
Other than on-site AA meetings, there are no therapy or treatment services offered, although many residents voluntarily participate in other community recovery and treatment programs.
Reflections on Blood on the Tracks
Acupuncture Education Resources:
Acupuncture and Addiction Resources
Index to All Articles and Writings on this Website